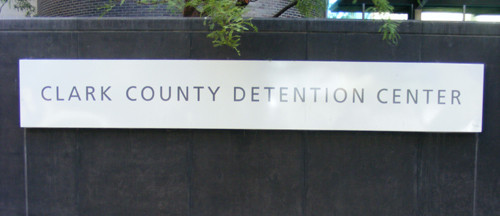 Front Entrance Sign
Clark County Detention Center
About the Clark County Detention Center
The Clark County Detention Center (CCDC) serves as a prisoner housing facility for the Las Vegas Metropolitan Police Department. Individuals arrested and awaiting trial are also kept there. In those cases, the facility also provides pre trial services such as bond payments. If you or someone you know is ever detained at this facility, there are several CCDC policies that must be adhered to. Knowing these rules will help make the time spent incarcerated a little easier.
Inmate Funds
There are several ways to provide monetary support to someone incarcerated in the Clark County Detention Center. Credit or debit cards may be used to add money to an account online via www.ezmoneyload.com. Funds may also be added over the telephone by calling 1-888-497-2387. Any monetary relief provided posts to the individual's account within 24 hours.
Inmate Mail
Mail may be sent to an individual incarcerated within the CCDC, provided it adheres to several guidelines. First, it must be addressed to the Clark County Detention Center and include the individual's name and ID number. All publications must come directly from the publisher, rather than a private individual. It should also be noted that no material deemed obscene or pornographic in nature will be accepted. Finally, make sure no photos exceed the dimensions of 6"x8".
Inmate Telephone
Unfortunately, people in the custody of the Clark County Detention Center are not allowed to receive phone calls. The only exception is a case of emergency and during situations like those, the CCDC must be contacted directly. All outgoing calls made by detainees are collect; the recipient of the call will be charged by the telephone service provider. Teletypewriter (TTY) services are available for prisoners who are hearing impaired and the Clark County Detention Center also provides interpretation services for people who don't speak English.
Inmate Search
People looking for individuals incarcerated in the CCDC have two ways to find them: online and telephone. Prisoners may be found online by their last name, Inmate ID number or case number. People recently jailed, under the age of 18 or in protective custody may not be found online. In such cases, people searching for them can call directly and find individuals according to name, ID # or case number.

Clark County Detention Center
Side View